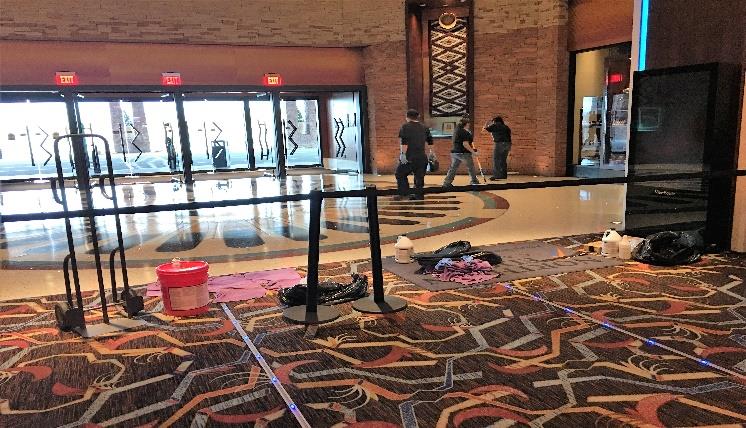 05 Jun

Navajo Gaming Announces Extension of Closure Through July 5
Reopening Criteria Exceeds Industry Standards as Navajo Gaming Prioritizes Guest, Team Member and Host Chapter Safety
Flagstaff, Ariz. – The Board of Directors of the Navajo Nation Gaming Enterprise (Navajo Gaming) approved the extended closure of all Navajo Gaming operations in adherence to Navajo Nation Executive Order 005-20 as issued by President Johnathan Nez and Vice President Myron Lizer. The Executive Orders keep in place the closure of government operation through July 5, 2020.
"We continue to work with the Navajo Nation Office of the President and Vice President and our commitment to protect team members and patrons during these unprecedented times. The Navajo Gaming Board of Directors approved the ongoing closure of all its casino facilities through July 5 and will continue team member paid administration leave, to minimize hardships during these difficult times" shared Quincy Natay, Navajo Gaming Board Chairman.
In preparation for reopening, and out of an abundance of caution, all properties have completed biohazard deep cleaning and sanitization processes as well as implementation of additional health and safety precautions for guest and team member safety that exceed industry gaming standards. Navajo Gaming also conducted patron surveys regarding their most important concerns and the feedback will be incorporated into the reopening protocols.
"Our executive team members and the Board of Directors continue to work closely with Navajo Nation leadership, adhering to all executive orders issued by the Office of the President and Vice President," shared Interim CEO Brian Parrish. "During our closure, exhaustive due diligence has been undertaken to create a best-in-class safety and health environment for all patrons and team members. When appropriate, we are prepared to safely reopen with new protocols that surpass industry standards and guidance provided by the Navajo Nation Department of Health and U.S. Center for Disease Control and Prevention's guidance."
Some of these comprehensive safety measures include:
Biohazard Deep Cleaning of every property before reopening.
Issuance of personal protective equipment (PPE) to patrons and team members. Team members
will be required to wear masks during the duration of scheduled shifts. Patrons will not be required to wear masks but are encouraged to do so during their visit. Should patrons not have face masks readily available we will provide upon entrance.
All team members will receive comprehensive training on infections, disease prevention and mitigation of the spread of COVID-19.
Properties will open at 50 percent capacity and a 6-feet social distancing requirement throughout the facilities.
Enforcement of physical distancing on casino floor, food and beverage locations, as well as other high traffic areas.
Placement of signage and placards containing information on social distancing, sanitation stations, handwashing, hand sanitizer and other precautionary procedures
Independent health care service providers will conduct temperature readings with an infrared device that does not require physical contact. Patrons and team members with temperatures of 100.4 or higher will not be allowed to enter.
Patrons will be asked to use hand sanitizer before they enter.
Parrish added, "We are committed to protecting our guests, team members and surrounding communities, and look forward to the time when we can safely reopen."
Navajo Gaming is one of many Navajo Nation-owned and operated enterprises that is charged with the mission of creating jobs, increasing revenues and stimulating incremental economic development. To learn more visit www.NavajoGaming.com
Photo: Front entrance of Northern Edge Navajo Casino deep cleaning during closure.
Photo Credit Neil Jones