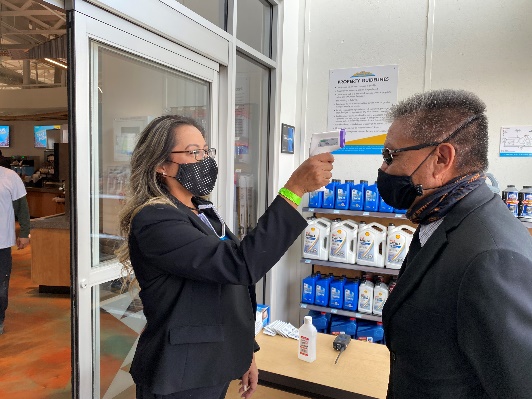 30 Oct

Navajo Gaming Prepared to Safely Reopen with Best-in-Class Precautionary Practices that Exceed State, Federal and Industry Safety Standards
November Reopening Would Allow Navajo Gaming to Stabilize 900+ Navajo Families Negatively Affected by Closures Last March
Flagstaff, Ariz. – Navajo Nation Gaming Enterprises' (Navajo Gaming) properties in Arizona and New Mexico are abundantly prepared to safely reopen and have requested that opportunity in November from Navajo leadership. Gaming Board of Directors and Executive Team Members are focused on the safety of guests and team members and have implemented exhaustive precautionary guidelines that exceed the U.S. Centers for Disease Control and Prevention (CDC) and the Navajo Nation Department of Health Guidelines as they work to bring back to work and restore vital salary and benefits to 1,180 valued team members – 82 percent of which are enrolled members of the Navajo Nation.
"The 24th Navajo Nation Council introduced Legislation 0262-20, requesting the approval to reopen all our Navajo Nation Gaming Enterprise facilities at a minimum of 50 percent capacity, and the Navajo Blue Travel Plaza at full capacity before November 17. We believe this legislation is critical as we work to stabilize the 900+ Navajo families – representing 105 of the 110 Navajo Chapters – negatively affected by our property closures," shared Brian Parrish, Interim CEO of Navajo Gaming.
"Despite reducing operational funding, implementation of conservative fiscal practices, Paycheck Protection Plan (PPP) funds and receiving CARES Act funds, all gaming-generated financial resources have been exhausted. Our request to Navajo leadership is focused on re-stabilizing team members economically and restoring healthcare benefits," stated Quincy Natay, Chairman of the Navajo Gaming Board.
A comprehensive health and safety plan and policies and procedures have been developed in compliance with the Navajo Nation Department of Health (NNDOH), U.S. Centers for Disease Control and Prevention (CDC) and the National Indian Gaming Commission (NIGC) to enable the general, health, safety and welfare of team members, patrons and the Dine' people. The NNDOH assisted with refinement and strengthening of the plan. During the closure, Navajo Gaming properties underwent deep biohazard cleaning and sanitization processes to reduce the risk of COVID-19 that include extensive sanitization and fogging with commercial-grade sanitizers and other proven methods of mitigating risks. Continuous biohazard cleaning will occur on an ongoing basis as defined in the reopening plan.
"We continue to work with Navajo Nation Tribal leadership during these economically challenging times as a tribally-owned business focused on restoring salary and benefits to valued team members, while taking every feasible measure to keep our guests safe by creating an environment that exceeds industry standards in regards to safety measures, hygiene protocols and precautionary practices that benefit our patrons and team members," shared Parrish.
Navajo Gaming is one of many Navajo Nation-owned and operated enterprises that is charged with the mission of creating jobs, increasing revenues and stimulating incremental economic development. To learn more visit www.NavajoGaming.com.
Image: Michele Landavazo, Assistant General Manager Twin Arrows Casino Resort takes Vice President of Navajo Nation Myron Lizer's temperature before entering the new Navajo Blue Travel Plaza at ribbon cutting ceremony.